Feel Sexy with Silky, Smooth Skin
Feel Sexy with Silky, Smooth Skin Looking for Laser Hair Removal? Allure MD Spa & Wellness Center offers a revolutionary new High Speed laser hair removal technology that is virtually painless. The Cynosure Elite MPX, which incorporates Cynosure's patented MultiPlex sequencing technology, is a highly versatile laser aesthetic workstation that combines two gold standard wavelengths in one system: the 755 nm Alexandrite laser and the 1064 nm Nd:YAG laser, with the capability of using them individually, switching between them, or blending them with the MultiPlex sequencing technology, resulting in customized hair, vascular, and anti-aging treatments to a wider range of patients of any skin type.
MultiPlex™ dual wavelength technology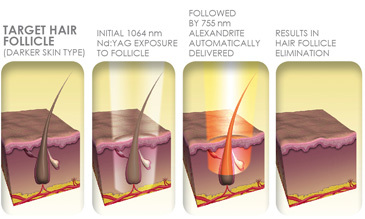 By sequentially emitting dual wavelengths, Elite MPX provides safer and more effective treatments than single-wavelength systems. For patients, that means greater satisfaction and better results. Now with latest Elite MPX, sequential pulsing-whether it's Alexandrite/Nd:YAG or Nd:YAG/Alexandrite- will fine tune laser hair removal treatments and eliminate the FINE hairs. The Elite MPX is using 18 mm spot size, which enable laser have deeper and stronger penetration therefore achieve more effective results compared with 15 mm spot size on Classic Elite.